Arts for Healing
Expressive Arts | Art Therapy
Arts for Healing: Expressive Arts is an art-based therapeutic program available to organizations and community groups offering physical, emotional and psychological care and support services in the Hudson Valley. The Art Effect offers immersive, creative experiences in visual arts to support, maintain and improve overall health, quality of life, emotional and cognitive abilities, interpersonal skills, and personal development for individuals in our community.

These programs aim to serve the needs of individuals living with trauma, disease, or disabilities, who benefit greatly from the therapeutic power of art. Each program is designed to meet the specific needs of the population being served. Programs can be geared towards individual or collaborative works. To learn more, please contact Mary Ellen at maryellen@thearteffect.org or call 845-471-7477.
Services
Programs include activities and instruction in a variety of artistic mediums and topics including:
Abstract Song
Processing Through Painting
Botanical Illustrations
Clay Character Sculptures
Family/Friends Crest Design
Animal Portraiture
Figure Drawing
Creating with India Ink
Japanese Brush Painting
Mask Making
Still Life Drawing
Collage
Paper Marbling and Mindfulness
And More. Artistic mediums and activities can be tailored to fit an agency or individual's particular needs.
Engagement in our Expressive Arts programs provide participants with a form of self-expression, increased self-esteem and sense of control, community involvement, and a dramatically increased feeling of hope. Participants also can experience a decreased sense of isolation and anxiety. Programs can be tailored to the needs of the participants to limit stimulation or provide tactile, external engagement, encourage non-verbal communication, or assist those with limited fine-motor skills.

Arts for Healing programs can also provide soothing and nourishing art-centric activities for those engaged in self-care or trauma-informed care, for those involved in health care or human services.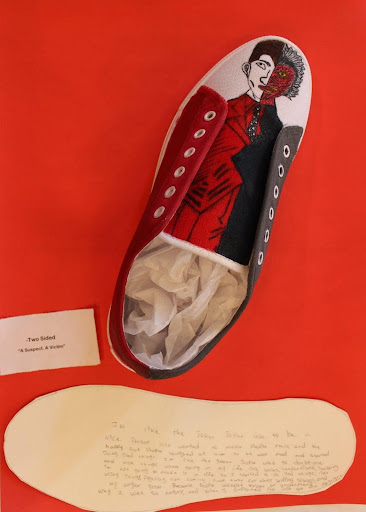 Arts For Healing: Incarcerated Youth Program
The Art Effect's commitment to transforming the lives of youth through the arts cultivates and showcases the talents and creative voices of incarcerated young people while intersecting social justice issues. Arts for Justice programming allows individuals to express their voices through visual and media art, photography, and film as a means of changing their own narratives, abolish stigmas, promote empathy, healing, and promote reincarceration.

In addition, Arts for Healing integrates our arts educational work with artist-in-residence programs for incarcerated people, and the community, empowering young people and those of all ages to develop their creative voices and bring about positive social change through the arts and media.
Success Story
A teen in a local adolescent offender facility in the Arts for Healing, Arts for Justice Program wrote in response to his artwork titled, "Two Sided – A Suspect. A Victim":
"I'm like the Joker. Joker used to be a nice person who wanted to make people smile and be happy. But people laughed at him so he was mad and started doing bad things. People used to doubt me. A lot of things were going on in my life like losses, suspension and doubting I'm going to make it in life. I started doing bad things like using drugs, fighting, not coming home for days and skipping school. My anger grew because people wouldn't know or understand why I was angry. And when I explained, it would just make me angrier."
This young adult decided to return to school and pursue a career in graphic design when they are released in October.
Teaching Artists & Community Partners
Arts for Healing staff are trained art therapists and artists who use specific arts-based activities to support, maintain, and improve overall health, physical, emotional and cognitive functioning, interpersonal skills, personal development, and quality of life. The teaching artists for each program are chosen based on the needs and interests of the population attending the program.

Some of our previous and current Arts for Healing partners include:
Testimonials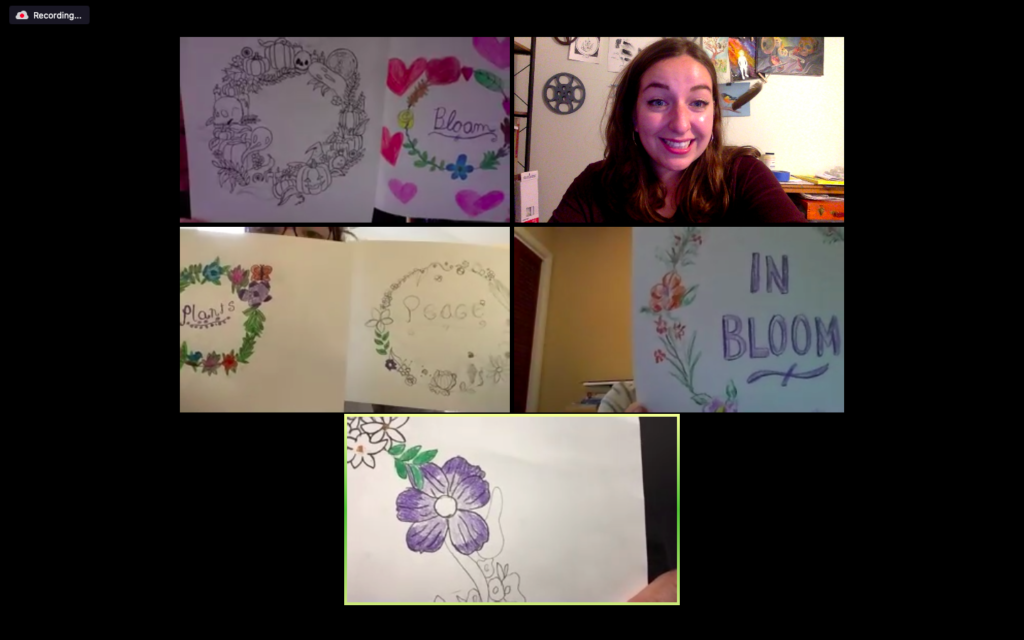 The Children's Home of Poughkeepsie has utilized the Arts for Healing Program for many years. It is extremely popular among our youth because of the talent, creativity, and flexibility of the art therapists and their remarkable ability to engage our youth. It is a major asset to our trauma-informed treatment program. I recommend this program enthusiastically without reservation. – David A. Crenshaw, Ph.D., ABPP, Clinical Director, Licensed Psychologist, NYS #4376

"The feedback we received from the women who attended was overwhelmingly positive…universal feedback [was that] the program was calming, relaxing and serene." – Marlene Stager of Support Connection.

"This program is great and I'm so grateful we have it for the youth. They love it and it's the highlight of their day/week." – Leah Gooch, Coordinator of Volunteer Services at the Hudson Correctional Facility

"The students were able to address their most painful memory through art as a form of expression and acceptance….Their canvas serves as a daily dose of therapy in order for them to cope & understand their experience through victory and not pity." – Delsie Howey, C.O.L.O.R.S Program Supervisor

"In an era when 'being down' is so accessible, I was totally lifted up- feeling whole again." –Millbrook Library Program participant

"While immersed in the program, I forgot ALL my worries; I had a smile on my face the entire time. And when it was over, I felt very very good about myself, which has been difficult these past months." – Support Connection client/workshop participant

Programs provided by this agency are partially funded by monies received from Ann and Abe Effron Donor Advised Fund of the Community Foundations of the Hudson Valley, and the New York State Council on the Arts.