Portfolio Day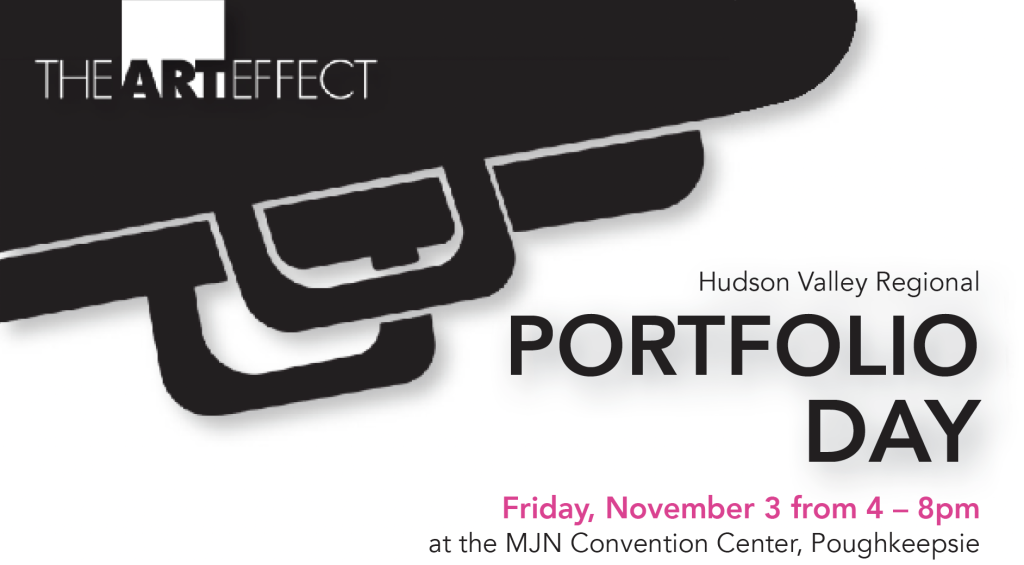 Hudson Valley Regional Portfolio Day, Friday, November 3, 2023 gives over 400 local youth the opportunity to speak with college representatives, get their portfolio critiqued, and receive a true advantage as they contend for merit-based scholarships in the arts. For more than 20 years, Portfolio Day has been able to provide a unique opportunity for high school, undergraduate, and Art Institute students to meet with more than 25 art schools and colleges free of charge thanks to a generous grant from a local foundation. In the last two years, The Art Effect's traditional Hudson Valley Regional Portfolio Day was able to pivot to a virtual event in response to the pandemic, with more than 340 portfolio reviews over the course of a full week! In 2023, Portfolio Day is BACK in-person and will be held at the MJN Convention Center in Poughkeepsie, NY. Click here for the 2023 press release.
Hudson Valley Regional Portfolio Day hosts students from throughout the region, coming from as far as 200 miles away, who speak with art school and college representatives and have their portfolios evaluated, giving them a true advantage in the college admission process. Students obtain catalogs, admission policies, and information on scholarship opportunities directly from their preferred schools. The college representatives have remarked on the high quality of art projects they have reviewed from our students.
2023 Attending Colleges
Alfred University School of Art & Design
Boston University School of Visual Arts
Delaware College of Art and Design
Hartford Art School, University of Hartford
Maryland Institute College of Art
Massachusetts College of Art and Design
Pratt Munson College of Art and Design
Ringling College of Art and Design
School of the Art Institute of Chicago
School of the Museum of Fine Arts
Syracuse University College of Visual and Performing Arts
The University of Massachusetts Dartmouth CVPA
Virginia Commonwealth University School of the Arts
…and more!
Colleges interested in joining us can register for a table here.
$100 registration fee includes a table at the Portfolio Day event, held at the Majad J. Nesheiwat Convention Center; listing in our event map highlighting the majors your school offers; listing on all marketing and promotional materials; technical support during the event; and lunch.
What should you bring to your pre-scheduled appointment?
Your portfolio should consist of 10-20 of your best and most recent visual artwork. You may also want to include works in progress or sketchbooks in order to share your process when necessary.

For additional information please contact The Art Effect office at 845.471.7477

Portfolio Day is hosted by The Art Institute; a year-round, intensive, pre-college portfolio development program for motivated teens ages 14-19. The Art Institute has been preparing students for acquiring merit-based scholarships to the nation's best schools in the visual and media arts since 1996. Click here to learn more.
Portfolio Day is supported in part by an award from the National Endowment for the Arts and by monies received from the New York State Council on the Arts.
Thank You to our Portfolio Day Sponsors: