Residencies
Bring The Art Effect teachers right into the classroom and infuse academic learning in any subject with media and visual arts projects. The Art Effect collaborates with faculty and educators on short- and long-term residencies tailored to creatively engage students in diverse subject areas, reinforcing skills and content they are learning in the classroom through media production and artmaking. Our multimedia lesson plans can accommodate for ages, content, format, and length to fit district-specific needs and/or Common Core standards, while keeping students actively and creatively engaged. Residencies can also be conducted in person or virtual.
Skills and Topics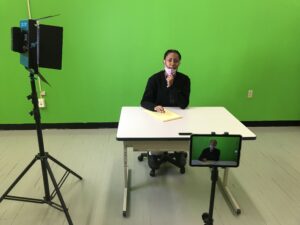 Many residencies focus on reinforcing ELA and literacy skills through filmmaking, photography, visual composition, sound design, and editing. Residencies can be tailored to fit a particular teacher's desired lesson plans and differentiated to accommodate diverse learners. In addition to classroom specific learning, The Art Effect may also partner with a district to offer school-wide assemblies bringing media/arts education into the school setting. After school residencies are also available to meet the district needs.
Program options may include:
Animation and stop-motion storytelling
Music video creation
Cinematic Adaptation
Print, radio, or video advertising
Multi-media digital composition
Digital painting
Filmmaking
Kinetic typography
Podcasting and radio production
Zine-making
For more information on digital media and filmmaking programs, visit Spark Studios.
The Big Read
Each year, the Poughkeepsie Public Library District presents The Big Read, often in partnership with the National Endowment of the Arts The NEA Big Read is a national initiative of the National Endowment for the Arts in partnership with Arts Midwest, which broadens our understanding of our world, our communities, and ourselves through the joy of sharing a good book. Through the Poughkeepsie Public Library District, The Art Effect hosts a series of library workshops, teacher trainings, and in-school residencies to be delivered as part of the PPLD's Big Read program offerings.

"The Big Read collaboration is expanding the learning of our high school students in ways that support their creativity, literacy, and growth of their content knowledge." Dr Rosser, PCSD Superintendent
Past Partners
Testimonials
"I truly cannot thank you enough! The students were excited and engaged… Overall, I was moved as an educator, as I watched and experienced how much joy this brought to my students." – Jamie Devlin, Roy C. Ketcham High School English teacher

"This residency allowed me to help students take themes from a text and compose their own digital responses to poems. Thank you!" – Nasarima Foster, Poughkeepsie High School English teacher

"You have enriched our English program more than you know. I cannot wait to see this program grow for next year." – Lizette Cintron, Wappingers Central School District Assistant Superintendent