Youth Arts Empowerment Zone Liaison
Youth Arts Empowerment Zone
The Youth Arts Empowerment Zone (YAEZ) is a long-term initiative to establish a youth-led arts district along Main Street in Poughkeepsie with The Art Effect as the anchor arts institution. The PKX Youth Committee, a group of motivated youth from our community, will establish the YAEZ as an arts district by creating annual festivals—called "PKX festivals"—that include public art installations, performances, and community activities in and around the Trolley Barn.
The YAEZ initiative asks:
What does a youth-led city look like?
What can we achieve with youth at the helm, as future and current leaders?
How can youth-led arts festivals establish a youth arts and cultural district to expand the range of voices centered and celebrated in the City of Poughkeepsie?
YAEZ Liaison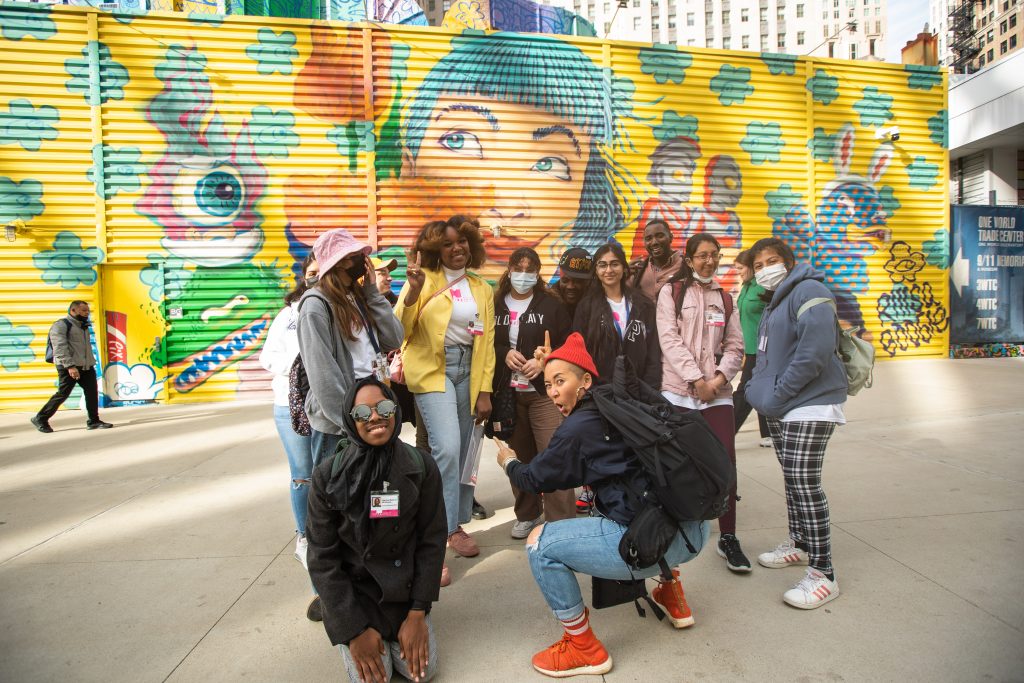 A YAEZ Liaison is a year-round, youth community organizing and festival planning training program. Youth plan and implement an annual arts festival each year. Youth earn a stipend as they learn the tactics of creative placemaking to plan festivals that include community-inspired public art installations created by local youth and professional artists. Committee members work on getting community participation in PKX festivals and gain public speaking skills through leading outreach workshops with local artists and community organizations and conducting presentations to stakeholders and government officials. The Liaisons also collaborate with a Curatorial Advisory Committee, a panel of professional artists and curators, to select a primary artist for each festival's public art activities. 
Become a YAEZ Liaison
Youth ages 15+ interested in joining the PKX Youth Committee can apply online. Sessions run in the Spring (March-June) and Fall (September – December). Application periods for each session open in November (for the Spring) and June (for the Fall). Applications are accepted in May for a limited number of full-time summer positions (in which youth can earn minimum wage).
The group meets after school in bi-monthly group planning sessions as well as weekly in two hour research and mentoring sessions in the spring and fall. Members also lead monthly community outreach activities and attend a variety of public meetings as both presenters and participants. Click HERE to see upcoming events. 
Summer Employment
During the summer, the PKX Youth Committee work full time to plan and complete installation of public art for the September PKX festivals.
Partners
PKX Youth Committee works with community partners, and the curatorial advisory committee across the county including;
Program Staff
Jaime Ransome, Trolley Barn Gallery Manager was born and raised in Rhinebeck NY and graduated from Syracuse University in May of 2022 after receiving her MFA in Museum Studies and her BFA in Film. She specializes in feminist and BIPOC art history and film theory. She attended Children's Media Project (The Art Effect's former Spark Studios program) and is now happy to be returning to Poughkeepsie to pass on her knowledge to The Art Effect Youth.
Destiny Kearney, Trolley Barn Fellow is a New York based artist who graduated from Bowdoin College, with a Bachelor of Arts in Africana Studies, Art History, and Visual Arts. After entering her first technical art classes during her sophomore year of college, she encountered a teaching style that excluded Black people. The gap in her artistic training led her to pursue the study of race in arts education. During Kearney's time within Bowdoin's Visual Arts program, she continued to learn from and rebel against that pedagogy. Taking the skills she acquired through self-teaching she continues to focus on depictions of Blackness in art. Over the past year, Kearney has used painting, photography, and collage to explore her Black and Indigenous identity, with a focus on land, lineage, and language. Her works address the hypervisibility, visibility, and invisibility of her racial and cultural identities. Bowdoin College Awarded her with The Richard P. Martel Jr. Memorial Prize in Visual Arts which is awarded to the students who, in the judgment of the Visual Arts Faculty at Bowdoin are deemed to have produced the most creative, perceptive, proficient, and visually appealing art works exhibited at the college during this academic year. Embarking on her post-grad journey, Kearney joins the Art Effect team as the Trolley Barn Fellow. She will be with us for the next two years as a member of the first cohort of Lead for Poughkeepsie Fellows, a branch of the Lead for America program.