Fall Art Courses Interest Form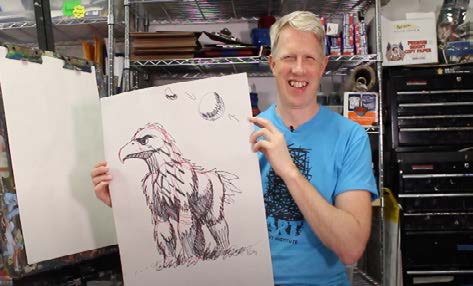 Take a deeper dive into the art you fell in love with this summer in one of our many art classes this fall at The Art Effect. Registration Opens Soon! Sign up here to receive updates!

Explore, experience, and excel in visual arts and media this year. Art classes give students the opportunity to develop real skills in the arts, and guides them towards achieving their academic and career goals. YOU can be the first to sign up for fall courses! Click the interest form link below to sign up for more information about fall classes.
Here's a sneak peek at what we will be offering beginning this September:
Ages 5 – 11: Explore Classes
Adventures in Wearable Art: Young artists transform into an original character through imagination, mixed media art, and play using their wearable art creations.
Adventures in Shadow Puppets: Design characters and learn how light interacts in a world of shadows made from mixed media.
Art Inspirations – Exploring: Create vibrant works of art in multiple media inspired by the Dorsky Museum at SUNY New Paltz, and beyond!
Exploring Puppetry: Design and create original puppet characters, bringing them to life through mixed media art making and performance.
Exploring Drawing & Painting: Bring imaginary characters and worlds to life while learning to express yourself through beginner drawing and painting techniques.
Exploring Stop Motion Animation: Learn how to create stop motion animation through with clay figures, set design, and digital software.
Ages 11 – 14: Experience Classes
Art Inspirations – Foundations: Create vibrant works of art in multiple media inspired by the Dorsky Museum at SUNY New Paltz, and beyond.
Foundations in Digital Art & Illustration: Create animated gifs, manipulate digital photos, and unlock the tools you need to make incredible digital artworks.
Foundations in Film & Animation: Level up your love of films by broadening your skills in formal cinematic techniques through filmmaking and animation.
Foundations in Drawing & Painting: Take your drawing and painting skills to the next level while learning various technical art making methods and mediums.
Foundations in Printmaking: TBD
Ages 14 – 19: Excel Classes
Art Inspirations – Portfolio: Create vibrant works of art in multiple media inspired by the Dorsky Museum at SUNY New Paltz, and beyond.
Portfolio Development Foundations: Gain foundational skills in drawing and painting the basics of human proportions, landscapes, still-life, and more!
Portfolio in Human Figure: Render the human figure in a variety of mediums including charcoal, pastels, ink and acrylic while studying from a live model.
Portfolio in Comics & Character Design: Learn how to design original characters & tell visual stories using various illustrative mediums & comic techniques.
Portfolio in Animation: TBD
Portfolio in Film: TBD
Portfolio in Digital Illustration: Create art for your digital portfolio including illustrations, photo-manipulations, character art, and animation.
Intermediate Portfolio in Drawing & Painting: Refine your observational rendering skills to develop a fine art portfolio through drawing, painting, and mixed media!
Advanced Portfolio in Drawing & Painting: Develop a stunning portfolio that stands out to top art schools through the creation of original conceptual artwork.
Senior Project: Reach your highest level of achievement at The Art Effect through an advanced mentoring and portfolio development course designed to help earn top scholarship awards by developing a strong body of artwork.
Fall Classes Interest Form