Empower Young Artists to Lead Community Transformation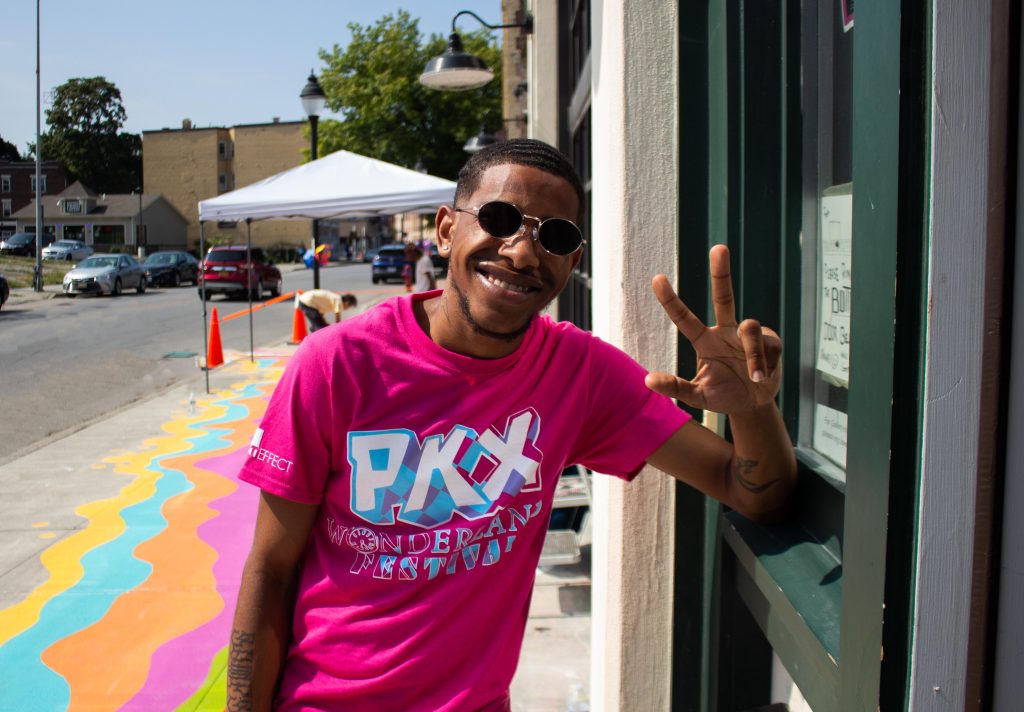 "Being a part of The Art Effect has made me a more dynamic thinker. I feel so much more confident in my idea processing. Also, seeing the [Wonderland] exhibition come together makes me proud because we put so much effort and heart into this festival. I'm excited for the community to experience it."

— Jadeen Sampson, Student at The Art Effect
This #GivingTuesday, The Art Effect is launching an annual campaign. Help us reach our goal of $30,000! We need your support to continue to empower young artists like Jadeen to find their voices and lead community transformation! Text ARTEFFECT to 44-321 or donate online right now!

Jadeen began his artistic journey with The Art Effect in 2016. At first, he was a shy high school student, quietly drawing in the corner of our Pershing St. studio. When we first met him he was anxious at the thought of showing anyone his art or speaking in front of his class. At The Art Effect, Jadeen found his voice.
It was during his Media, Art, Design Lab (MADLab) program, when Jadeen was just 17 years old, that his voice began to grow. Working with educators at The Art Effect, he showed not only talent but also leadership skills completing public art installations, business logos, and refining his drawing skills. The following year, shortly after Jadeen's senior year in high school, he worked as a youth employee of The Art Effect to film and interview the 2019 candidates running for Poughkeepsie Mayor with hopes of encouraging more votes. Through hosting these interviews, he showed his growing self-confidence as he asked both candidates tough questions on police relations in Poughkeepsie and the revitalization of Poughkeepsie's Main Street.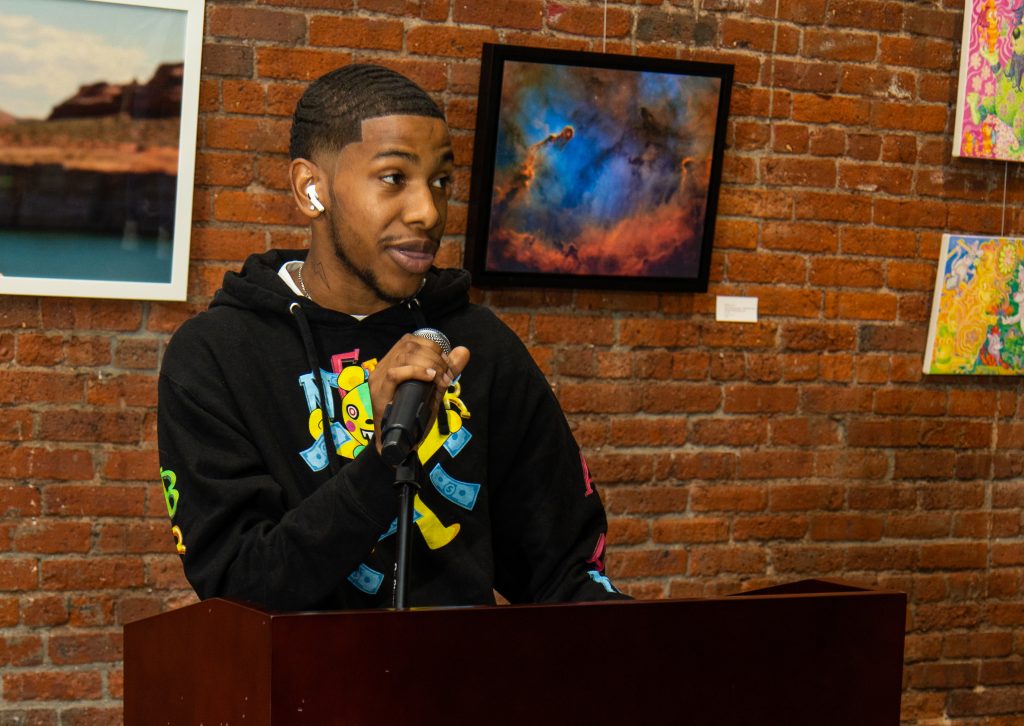 In 2020, Jadeen worked on The TAG At Dutchess, a county-funded website that allowed him to create content and graphics to connect youth with resources and remote job opportunities during the pandemic. He then worked with Forge Media as a youth filmmaker apprentice, and finally as a key member of the Youth Curatorial Team at Trolley Barn Gallery.
He has participated in almost every program The Art Effect has to offer and was given an Outstanding Youth Employee Award by the Dutchess County Workforce Investment Board for his passion and dedication to his work. Over the past year, Jadeen has planned, curated, and even painted the pavement for our first annual PKX Arts Festival. Jadeen is an instrumental youth employee in our youth workforce training programs including MADLab, the Youth Curatorial Team, and the PKX Festival Committee! Jadeen, like so many others at The Art Effect, has big dreams of changing the world through his many artistic endeavors — from drawing to music to public speaking. Jadeen has developed the skills that now match his drive and confidence and he continues to support the mission of The Art Effect as a key advocate and leader in community transformation.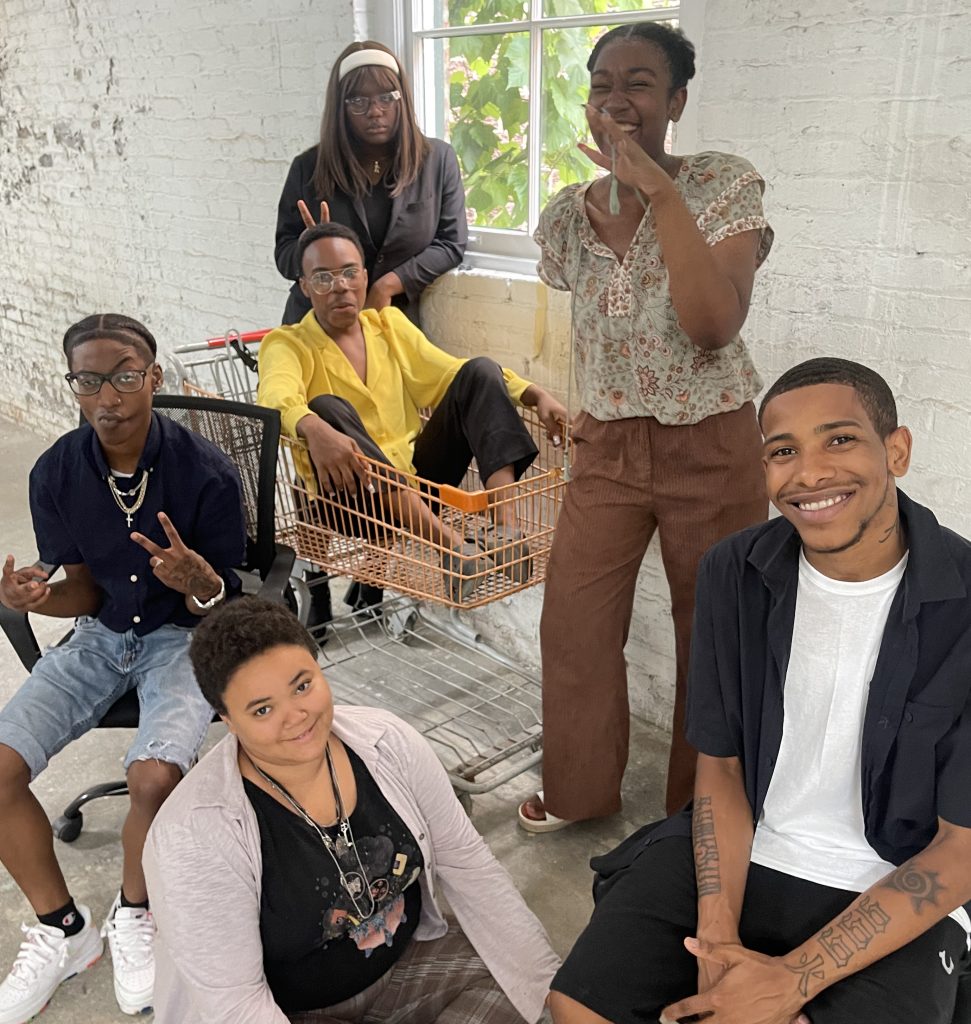 "I feel like art is really important, especially in this community. When we get to make art here like we did this summer it reminds us that this is home. It's our home, Poughkeepsie, New York. Art helps us realize that."

— Jadeen Sampson, Student at The Art Effect
The PKX Festival is the cornerstone of the Youth Arts Empowerment Zone where youth like Jadeen engage the community in high quality visual and performing arts experiences that they curate. Within the Youth Arts Empowerment Zone youth are the leaders that showcase the impact that arts and arts education can have on both an individual and on our community.

From youth-designed public art and gallery curation to arts education, The Art Effect connects young people like Jadeen with opportunities to develop new skills and engage in civic life. Through the emerging Youth Arts Empowerment Zone — including the annual PKX festival and public art installations, young people are transforming the visual landscape of Poughkeepsie and beyond. Help spark a youth-led renaissance throughout the Hudson Valley. Support the creative voices of youth in our community by donating today. To make a donation or learn more about the Youth Arts Empowerment Zone, donate today!
"Jadeen is living proof that the arts empower! He first joined our programs unsure of what he wanted out of life, and over the years has developed into a successful freelance artist and designer who is constantly giving back to the community. I was always impressed with him as a student, now I'm beyond proud to work with him as a young adult at the start of his arts career, and I'm so excited to see what the next generation of youth like Jadeen are capable of!"

— Mary Ellen Iatropoulos, Director of Programs