Pivoting to Virtual Radio Shows and Podcasts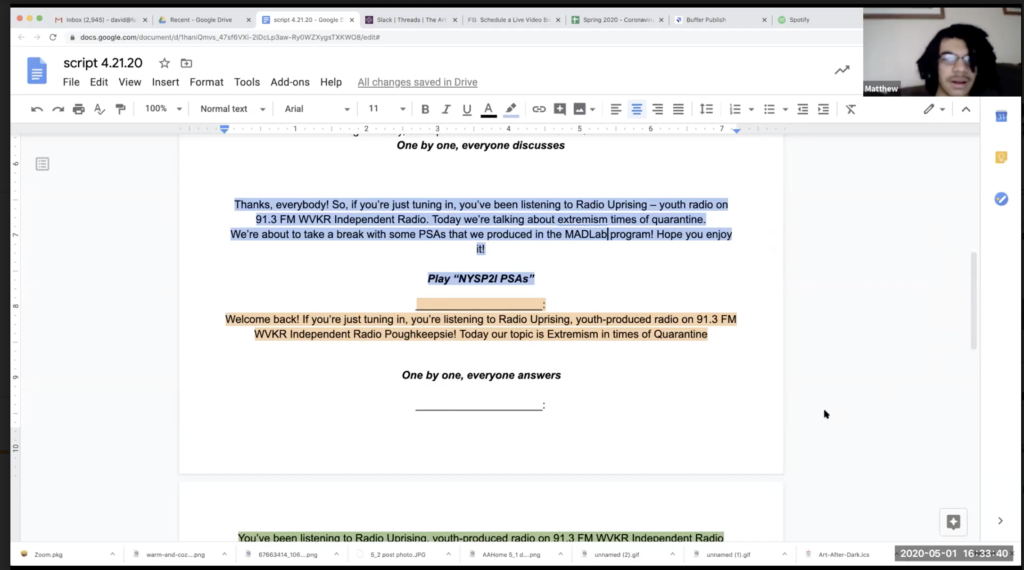 Since the COVID pandemic began in March, The Art Effect has pivoted our normal service models to include more virtual options, adjust program schedules, and serve more people  through an incredible amount of hard work, talent, time, and creative thinking. During the first months of the COVID-19 pandemic, The Art Effect was one of the only agencies in Poughkeepsie providing services to youth through remote media and visual arts workshops, online courses, virtual events and remote studio recordings for Radio Uprising!
Students who used to go to WVKR studio at Vassar College transitioned to remote recordings pre-produced before our Thursday broadcast time in April 2020. Instead of recording shows in person, students interacted over Zoom and edited the audio from the Zoom recorded discussions that were sent to the studio for airing. As much as the youth have missed being together in the studio, the new virtual program model allowed for different generations of students and youth from across the county to come together for a discussion each week.
Tune in to 91.3fm on Thursdays from 4-5pm EST or visit the live stream on www.wvkr.org