MADLab Mural Inspires Downtown Poughkeepsie
A mural painted by The Art Effect's Media/Art/Design Lab (MADLab) workforce youth has been installed in the Malcolm X Park on Mansion Street in Poughkeepsie. After being neglected for many years, the park has been revitalized with new playground equipment, benches, tables, native trees and shrubs, a refurbished basketball court and bleachers– and now, public art created by local youth. The park both celebrates an icon of American history and provides a beautiful green space for community members to gather; the mural advances both of these goals, and also provides creativity and a visual symbol of Black empowerment.
In 2019, the idea for the mural was initially conceived by Scenic Hudson, MASS Design Group, The Art Effect, and project lead Ernest Henry from the Hudson Valley Re-Entry Network. This team consulted with local residents of all ages who frequent the park, and decided that the mural would become a collaborative project; community members would paint a Kente stripe design (inspired by the traditional Ghanaian cloth that has become a symbol of African and African-American identity). However, this plan was interrupted by the pandemic.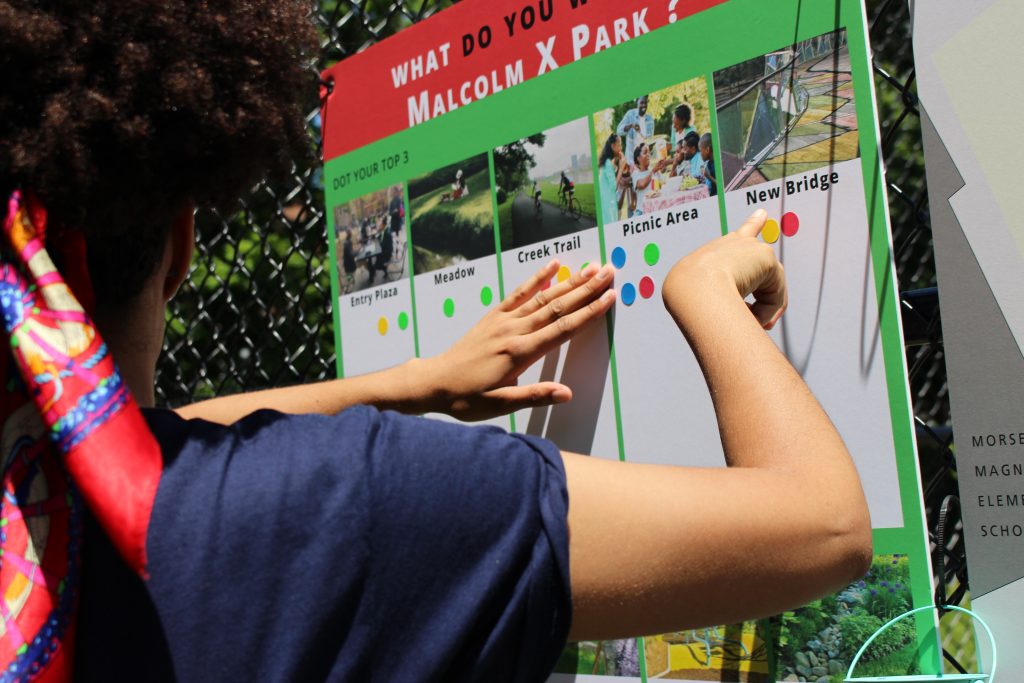 Fortunately, MADLAb youth were able to complete the mural using the art and design skills they had learned in the classroom. Their hard work ensured that the project remained a collaborative endeavor, and added youth voices to the design of an important community resource. The finished mural includes a portrait of Malcolm X and an inspiring quote from the human rights leader: "Education is the passport to the future, for tomorrow belongs to those who prepare for it today."
The Malcolm X Park is now more welcoming than ever. This mural is yet another example of MADLab's commitment to creative placemaking– the practice of shaping a neighborhood, both physically and socially, by local residents. With projects like Scenic Hudson mural,  We Are Poughkeepsie mural, community clean-up days along the Fall Kill Creek, and now the mural at Malcolm X Park, MADLab youth are connecting with more community partners and deepening their positive impact on the places where they live and work. 

Click here to learn more about MADLab and apply for the summer session beginning on July 5.